As an Amazon Seller, you must have heard (even if you don't know what it is) about EBC or A+ Content, which is what it's called now. If you've been selling for a long time, you probably know about them both. However, if you just started your Amazon journey, and you have no idea what we're talking about, it is time to get yourself educated if you want to succeed on this highly competitive platform.
Today, we're here to teach you all about A+ Content, how it works, some of its benefits, and what you will need to set it up.
The first thing you need to know is that EBC and A+ Content used to be two different things, however, they did share certain similarities. Both features were offered by Amazon to help sellers engage more with clients, share even more traits about their brand and products, and add a more premium, trustful look and feel to their listings.
And because both of them were so similar, they decided to combine them and stick with the name "A+ Content". That being said, let's answer some of your A+-Related questions.
What is Amazon A+ Content?
First thing's first: A+ content is a section that appears under a product description once the customer scrolls down your listing to read the reviews. Amazon A+ Content is an incredible feature that allows brand owners to describe their product features in a different, creative and engaging way by including unique points of differentiation like the brand's story, enhanced images, high-quality videos, and text placements, and giving their audience a unique shopping experience and all of the information they possibly need to make a buying decision.

What does Amazon A+ Content include?
Images: You already know about the white background, lifestyle, and infographic images. But what if we told you, you can add even more? Show more close-ups of the product's material, and add instructions on how to assemble it, including a comparison chart that shows your advantages against the competition. There's an infinity of options that will sell your product for sure.
Videos: Videos have been what really sells for a while now, and spoiler alert: they will have an even bigger impact in the future. With A+ Content you can include more than 1 video to your listing, and really connect with your potential customers by telling them your brand's story, uploading user-generated content, and more!
Text: When it comes to images and videos, you don't want to include a lot of text that will distract users from what's really important: your product. That is why with A+, you can use text as your friend! While it will not be included in the media content, it will complement what you're showing. Just make sure to use our best friends, and keywords and your success is assured.
Can anyone access A+ Content for their listing?
Only Vendors, Brand-Registered Sellers, Users under Amazon's Exclusive Programs, or Launchpad can access these features. So if you're not one of them, it is a great moment to start looking into how to become one.
What are the benefits of Amazon A+ Content?
Every day new sellers join the platform hoping to become success stories, one of the amazing examples we hear about from other people or that we read about online. And this is exactly what makes it harder to become one of those stories.
The best thing we can do to achieve this is to work hard and invest in having a top-notch, professional, full of high-quality content listing. This is where A+ can make you really stand out from the competition. Here are some of its main benefits:
1. It catches the attention
Once the customer opens your listing it usually takes a few seconds for him to determine whether it's worth spending time on. A brief look through the bullet points, and images, scroll down to the review section… And that's where you can make him stop and stare! Even if nothing else on the page caught his attention, you have a chance to change this first impression by adding A+ content.
Talking about first impressions, we just published a blog that talks about how you can choose your perfect main image.
2. It gives your brand a premium look
This feature helps you showcase your content in an organized, professional way which ultimately leads to creating a more premium feel. Remember, it's not only about the value of your product, but it's also about perceived value – and this is something A+ content does a great job at creating.
3. It makes your product shine
In most cases, 8 images are not enough to really show what your product is about, and convince the customer it's worth spending money on. Use this opportunity to show every single detail you worked so hard on. From the packaging to the materials, to colors, to variations, this is your chance to show everyone what they are missing and why you are worthy of their money.
4. Fewer returns, and fewer worries
Because A+ helps you give a more in-depth, detailed look into the product and its features, it helps potential buyers know what to expect, and also know if what they're purchasing is really what they need and what they are looking for. This helps them have an easier time making decisions for your products or brand, and ultimately, creates fewer return opportunities for you.
5. More room for creativity
This feature doesn't have a set-in-stone structure. The best part about it is that you can play with all its different modules, and combine them however you want. Let's see all the 15 available modules you can play with and some awesome examples: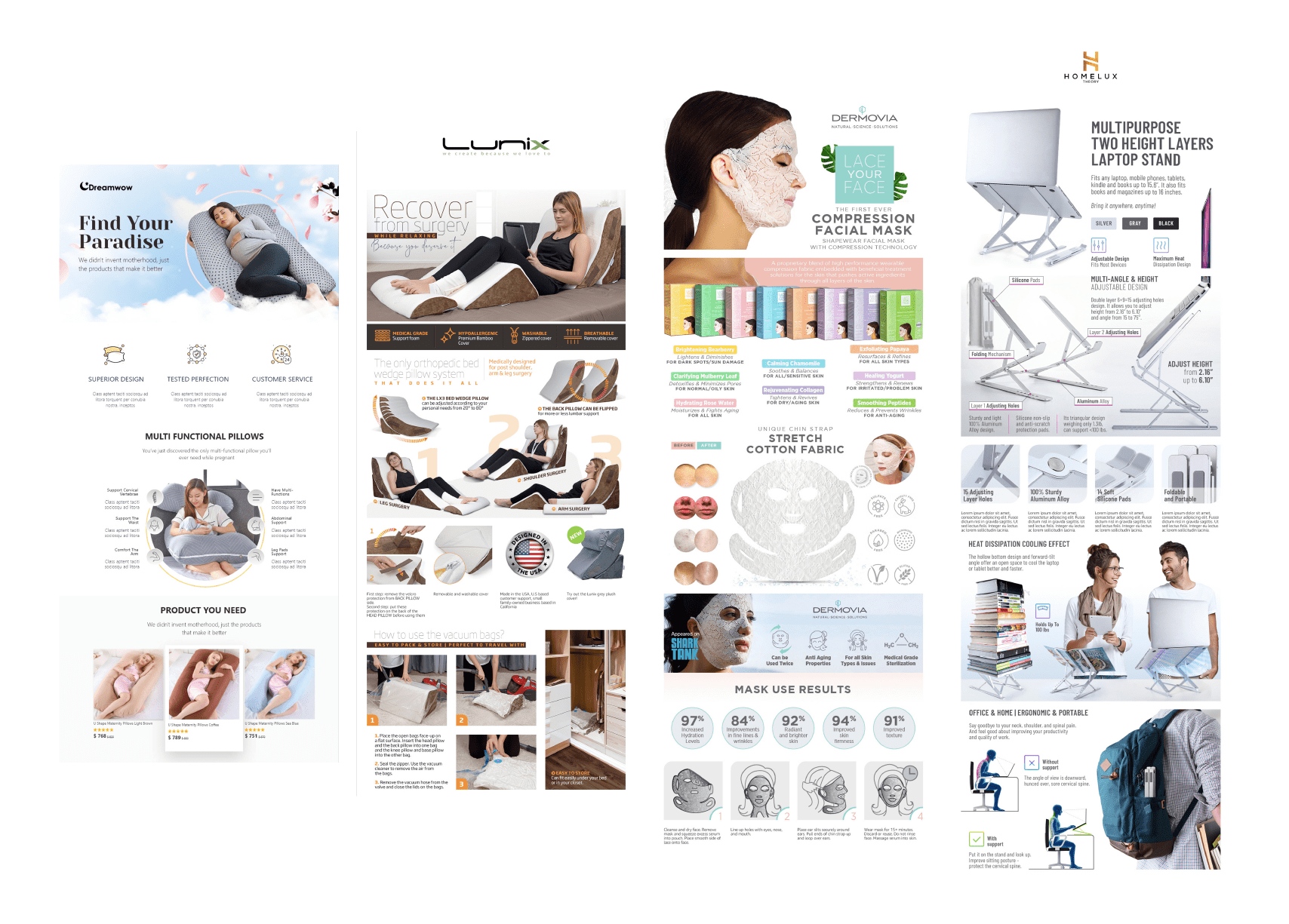 How can I create A+ Content?
Here's the step-by-step provided by Amazon's Seller Central:
1. Select A+ Content from the Advertising menu on the Seller Central homepage.

2. To add content, click Start creating A+ content and choose the content type you want to create. (You already know the options available!)
3. Follow the onscreen prompts to name your content and then select modules to create the style you desire.
4. Populate the text and image slots. While you are adding content, you can click Preview at any time to see what your content will look like in both Desktop and Mobile versions.
5. Apply ASINs to the content in the ASIN management section. You can add any ASIN from an ASIN family to the search box to find all the ASINs in the family. Select the ASINs that you want to apply to the content and click Apply.
6. Create language variation drafts for other languages that customers use in the country. For instance, since many customers in the US choose to shop in Spanish, rather than English, create a language variation for Spanish in the US.
7. Click Review & Submit to review the final draft of your content, including the applied ASINs, and click Submit for approval to send the content for validation and approval.
Tips for making your A+ Content stand out
1. Invest in professional photography
We can't stress enough the importance of high-quality content! Remember, "a picture is worth more than a thousand words" and when selling, this is no exception!
2. Less Is More! Go straight to the point
Remember what we mentioned about text being your best friend? This will only work if you complement your images with it, not if you make the text the center of attention. Use it when necessary and be as precise as possible.
3. Don't forget to use Alt-Text!
Alt-Text is the image keywords you're required to submit when uploading your images. This can help your product appear higher and faster in search engines like Google.
4. Expand your reach
Don't leave your international shoppers out! Even Amazon suggests it when creating A+ Content, by translating your listing, you can conquer new segments and have more potential sales!
We know that was a lot of information, which is why if you got to this point, we're offering you an up to $200 discount on all of our services. So let's start working on your A+ Content and get your listing ready for the holiday season.