The world of e-commerce doesn't stand still and Amazon is constantly looking for ways to enhance our shopping experiences by adding new features that will help you close that sale, or just attract new potential customers.
On this blog we'll be talking about some of the latest additions to Amazon: Live Streaming, Following a Brand, and Posts. Keep reading to find out more and take advantage of these great features!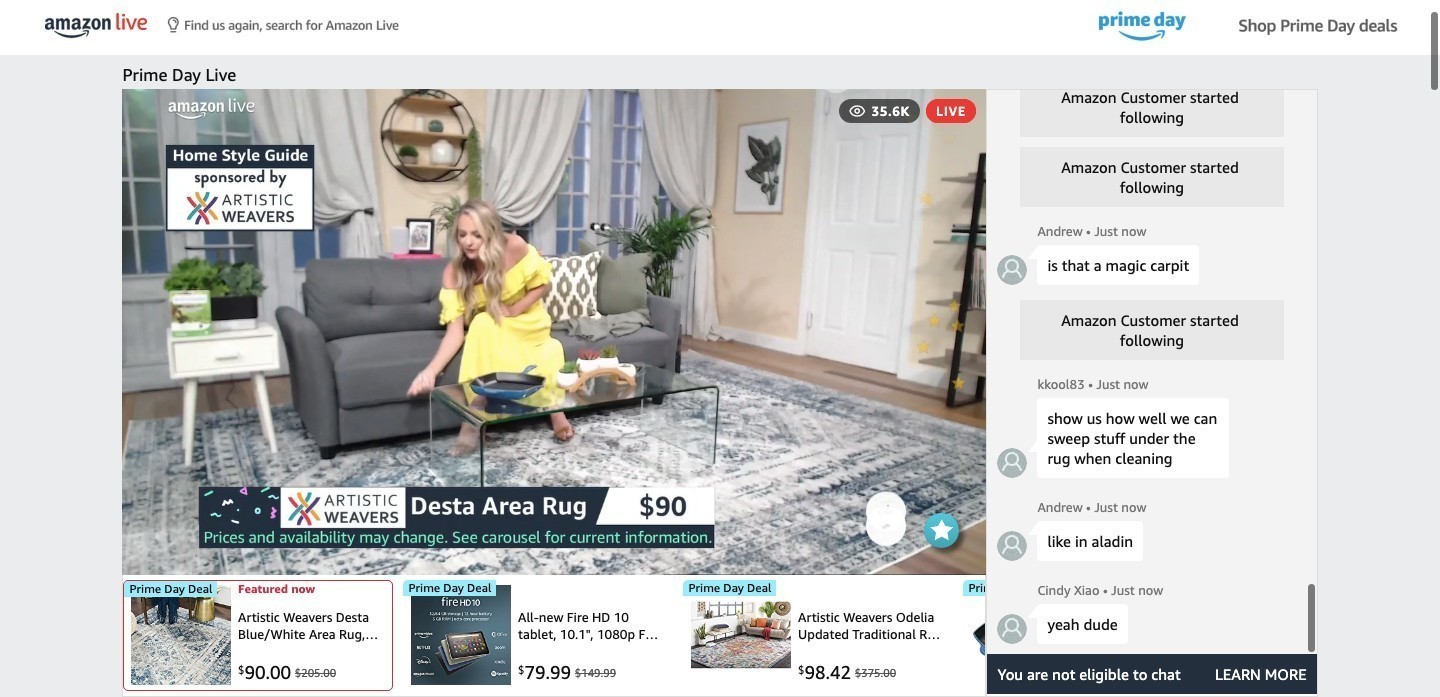 Imagine showing all of your potential customers the products you want to sell in real-time, or just letting them know why and how you got started on Amazon. Well, now it's possible!
Live Streaming on Amazon gives you the chance to engage with shoppers in real-time and drive sales with interactive live streams. Through the app or just the desktop version, customers are able to watch or stream videos, find what other brands are doing and even ask or answer questions in real-time.
You can do these lives as an influencer, or as a brand. When you go live as a brand, your video is eligible to appear automatically on your brand's product detail pages and on the Amazon Live home page.
Another benefit of going live as a brand is that your viewers can find your products next to the video player, so they can shop right away while you talk about all of your product's features, benefits, use, etc.
Have in mind that you can stream on Amazon if you're registered in Amazon Brand Registry or are a US Vendor with an approved Amazon Store.
Finally, this amazing feature gives you a way to build a followers base on Amazon. This takes us to our next point:
Following a Brand
In other social media platforms (Instagram, Facebook, Tik Tok, among others), the reason why we follow someone is to keep up with their lives. How are they doing? What have they been working on? And in the influencers' case, what they are offering lately: the best restaurants in town, best beauty products, editing apps, etc.
And that's exactly what following a brand on Amazon is about: Follow is part of the Amazon Creator Live App and it enables shoppers to stay up to date with the influencers, people, brands, and interests they care about on Amazon.
It has a "from Creators you Follow" section that is visible to customers. They will see any creators they follow current or previous live streams up to 14 days old. However, if they're not checking this page constantly, you don't have to worry: shoppers who follow you will receive push notifications from the Amazon mobile app and will be taken to your live stream playing on amazon.com/live.
Take advantage of this new feature and know that growing your following is the key to increasing your viewership over time, and getting customers to watch your content regularly!
On the same note of Social Media features, let's move on to our next and final point:
Posting on Amazon
Let's remember an image says more than a thousand words! And with this new feature, you will be able to say a lot with an unlimited amount of curated images you can post every day.
Another great feature for sellers with Brand-Registry, Posts is a new opportunity for your brand and product to be discovered with Lifestyle images and a shoppable feed.
Even though it's still in the Beta phase, Posts delivers your brand story to shoppers as they browse your categories. They can click through Posts to explore your brand's feed, and discover product pages directly from it!
Without the limitation listings have (up to 8 images), this is yet another chance for you to educate your potential shoppers on your product's benefits, features, materials, use, and so much more! With the right set of photos, you can encourage them to finally make the purchase, and not to mention, this is a big differentiator from the competition.
The best part? It's completely unlimited and FREE! Post as many photos, as often as you'd like with no additional fees. This being said, if you want to commit to having beautiful imagery, we would love to help you.
As we said at the beginning, the world is moving forward and Amazon is no exception. This is your chance to take advantage of everything this platform has to offer and become the number one in your category!
We would love to be your partner in this journey. Contact us here and let's get started!