Learning how to Find the right marketing agency is not easy work. You want to make sure that your money returns in profits and more sales.
There are many key factors to consider when working with an agency, but the most relevant ones and those that apply to any of them are those that we are going to be covering in this post.
Make sure that any marketing agency you are going to work with meets these criteria:
1. Customized Proposal
No one knows your needs and your industry better than yourself, and no matter how experienced an agency is, it may not know all the necessary details to deliver you good results.
Don't take it easy and accept just any simple, standard package that doesn't consider your requirements.
A good agency is going to study your business first and create a custom proposal for you with their suggestions of what needs to be improved and what you've been doing well (or wrong).
2. Expertise demonstration
Make sure that the agency you want to work with has real expertise.
You can do a short research on the official Amazon Advertising Partner Directory to check if the agency is included. Here you will find the top Amazon marketing agencies in the world. It means that if Amazon supports them, it's because they're the best in the industry.
This is how you can search for it:
First, enter the Partner Directory official website.
On the left side, you will see how Amazon classifies the services you may be interested in.
Select the one that you are looking for and it will automatically filter the list.
Scroll down until you see the agency. If it's part of it, you will find general information about the company and a link to see more.
Here's a great example of what it looks like: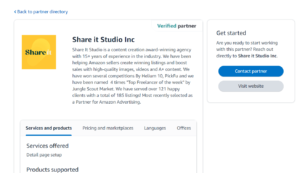 Only the top Amazon marketing agencies reach the Amazon Ads Partner status.
If the agency you like is not there, don't worry. You can check if they have any awards, and, if not, they may have at least some reviews.
Try not to work with agencies without any reviews just because they are cheaper. Remember: you get what you pay for.
If you want excellent results, it's not going to be cheap, but it will pay off.
3. Portfolio
Almost all Amazon agencies publish their work so you can check its quality and if it fits your needs.
Don't only consider the technical part of the work, but also take their values into account.
Maybe they have a specific style of doing things, or maybe you see they are much better with certain categories because of their experience.
Every agency has something unique that differentiates them from each other, and you can see it in their work. Here you can watch one of Share It Studio's portfolios as an example. This is how it should be shown off in most cases.
4. Original Reviews
Here's where the majority of agencies lie. You need to stay alert about this!
Learn how to differentiate real from fake testimonials. Try to look for neutral third-party reviews hosts such as Google My Business, a tool that Google offers for businesses so its information is automatically displayed when you type the company name on the Google search engine.
Here you can watch original reviews from the company's customers!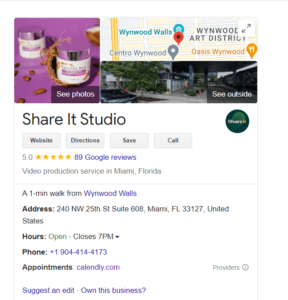 Try working with an agency that has at least 30 reviews. This way you can be sure that enough people are validating their services.
There are also other sites depending on the service you are looking for such as Trustpilot or Capterra (which is a must if you are hunting for the right Software as a Service).
Always remember the phrase "you get what you pay for". Of course, there are some exceptions out there to this rule: some agencies charge more than they should and others are a bargain.
However, in the Amazon business, I can assure you that this is rarely the case. To make sure that you find the right marketing agency for your business, follow the tips that we gave you in this article