Following our victory in "The Amazing Listing" competition powered by PickFu, in partnership with Helium 10 and e-commerce expert seller Kevin King, that challenged 4 agencies across the globe to reinvent a hand sanitizer listing, we became a part of PickFu Agency Program and now are certified to run polls on behalf of our clients… with 25% off!
Here are some of the images we created as a part of the competition:

And you definitely don't want to miss the video, it made all the difference!
Now, for those of you who haven't heard of PickFu: what is it?
PickFu is a do-it-yourself online platform that unlocks powerful consumer research. In just minutes, you can crowdsource hundreds of opinions from the people who matter most to your business.
Its panel is a group of over 10.000 individuals that answer to over 40 targeting options, all ready to help you make the best choice for your brand.
How do PickFu polls work?
Split testing on Amazon is an experiment between two or more variations to see which variation in the set performs best. This type of testing is also known as A/B testing because there is a version called A and a version called B. However, PickFu allows you to test many variations & also receive detailed feedback explaining each respondent's choice. Here's how it looks:
Pick Fu Poll example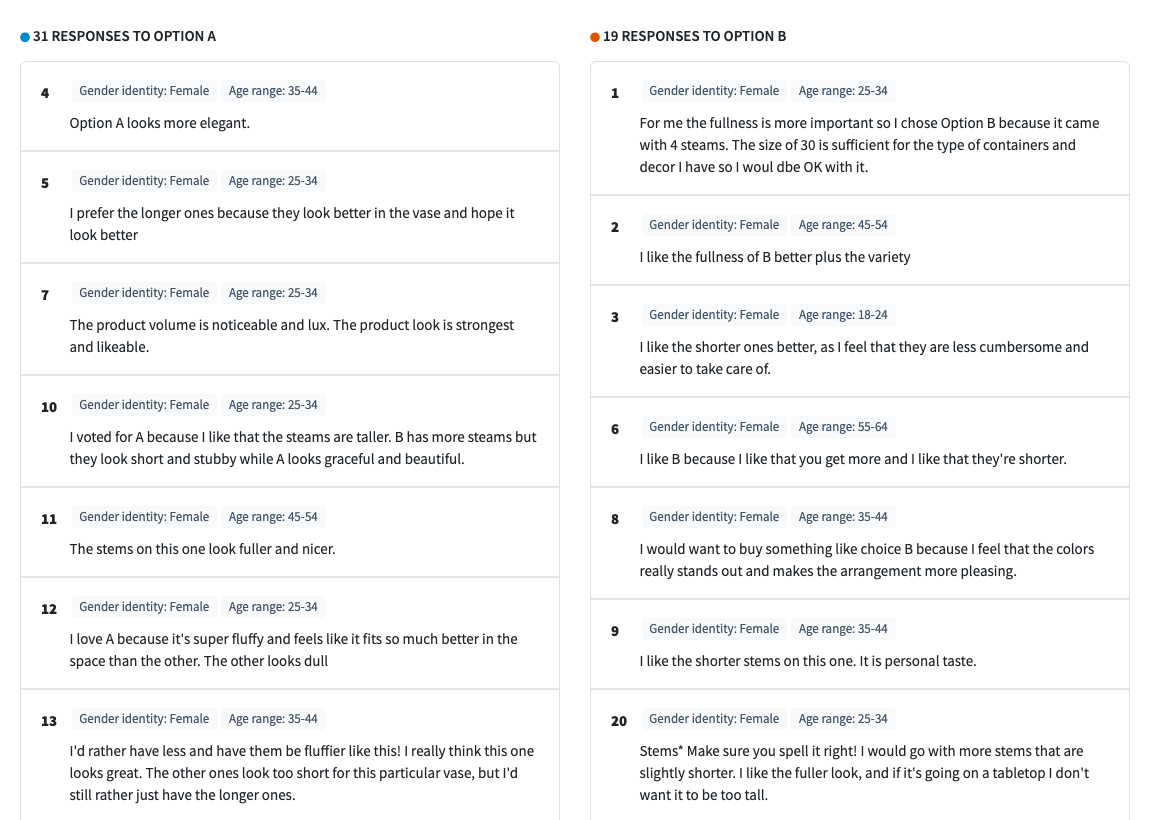 Pick Fu Respondent example
One advantage of using PickFu is that you can test before even developing your listing. What's the best name for your brand? How should the branding look? You can ask anything!
You'll be able to test: product names, photography (especially the listing's featured photo product), descriptions, packaging design, product videos, product bonuses or add-ons, ad headlines, and copywriting.
Why is A/B testing so important?
Because it helps you avoid risks! By allowing you to target your resources for maximum effect and efficiency, it helps increase the return on investment whether it's based on short-term conversions or customer loyalty.
What benefits does it have?
Improved content engagement, reducing bounce rates, increasing conversion rates, higher value for your listing, and the most important: increasing sales!!
The best example in which A/B testing could help you are Main Images! Remember that first impressions are one of the most defining moments on Amazon, if your Main Image doesn't stand out, or makes your product look bad, potential clients won't even take a second look before clicking on someone else's image.
When working with Main Images, we always deliver at least 2 options, where we play with the products' sides, positions, and other accessories. Here are some of the main image options we created for Dispenova Soap Dispenser:

After the first delivery, we used PickFu to test the images and even though option B was our team's favorite, the majority of respondents chose option A so that's the one that is used in the listing now. This definitely proves that even though as creatives, or even brand-owners we see things a certain way, it's not always the most beneficial option to catch everyone's attention!
What does PickFu-Certified mean?
The best part about it is that this program helps us help you! Firstly, we received advanced training that helped us understand how the platform works in order to help you, our clients, take advantage of all the benefits it has to offer.
Once we got our certification, we were given a 25% trade discount on all PickFu polls! This means we can now run the test for you for a cheaper cost and we can modify the images right after getting feedback from the poll respondents.
Are you ready to take your images to the next level with a panel of experts behind the final result? Contact us here and let's do it!