If you are an Amazon seller and are thinking about having a website for your brand, but don't know where to start yet, Amazon has in store the perfect answer for you: Amazon Storefront! The best way to generate brand awareness for your brand and make your listings stand out from the crowd
What is Amazon Stores (Storefront)?
Amazon Stores (or Storefront, as it is well-known) is a feature aimed at sellers that are growing their businesses, and most likely don't have their own website to showcase their product catalog. With Amazon Stores, brands can display every single one of their products, organizing them by categories
It is the perfect landing page for advertisers, where you will be able to communicate your brand story, and highlight your products and their benefits with captivating photos, graphics, and videos that will elevate the shopping experience.
Additionally, Amazon Storefront offers a large selection of data and insights that will help you better understand the customers' shopping behavior; so that once you get it, you can easily adapt the content and add campaigns to it, as well as execute the strategy that will bring them (and their friends) back to your page.
Finally, this new page will allow your brand to appear on Google Search Results, which will help you boost your organic SEO (Search Engine Optimization) both on Google and Amazon.
Amazon Storefront tiles
Amazon Storefronts are built with tiles. Tiles are like Lego building blocks from which you can give shape to your landing page.
There are many tiles that you can choose from, but here we leave the most important ones:
Header

The header appears at the top of your Store and includes a hero image, brand logo, and navigation bar.
To ensure your hero image looks great on any device, Amazon requires a safe zone, which is an area in the center of your image that will always be visible.
In some cases, up to 30% of the hero image will be cropped, which includes 15% from both the left and right sides. All vital parts of your hero image should be kept inside the safe zone to ensure a high-quality display for shoppers.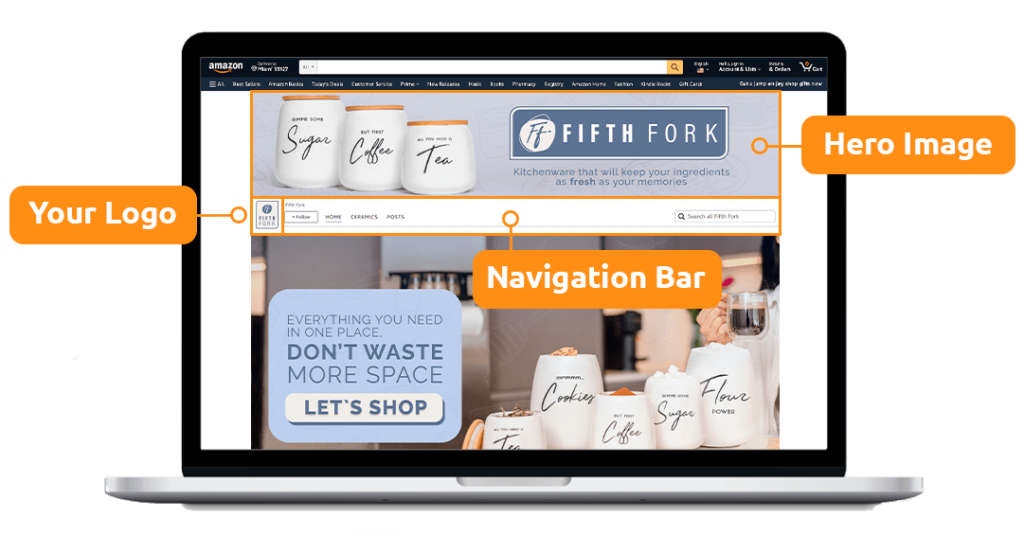 Image tile

Image tiles can link to a Store page or product detail page.
Adding a link title to an image tile will cover some of the images.
For rectangle images (medium and full-width tiles) with link titles, about 19% of the image will be obscured at the bottom.
For square images (small and large tiles) with link titles, about 12% of the image will be obscured at the bottom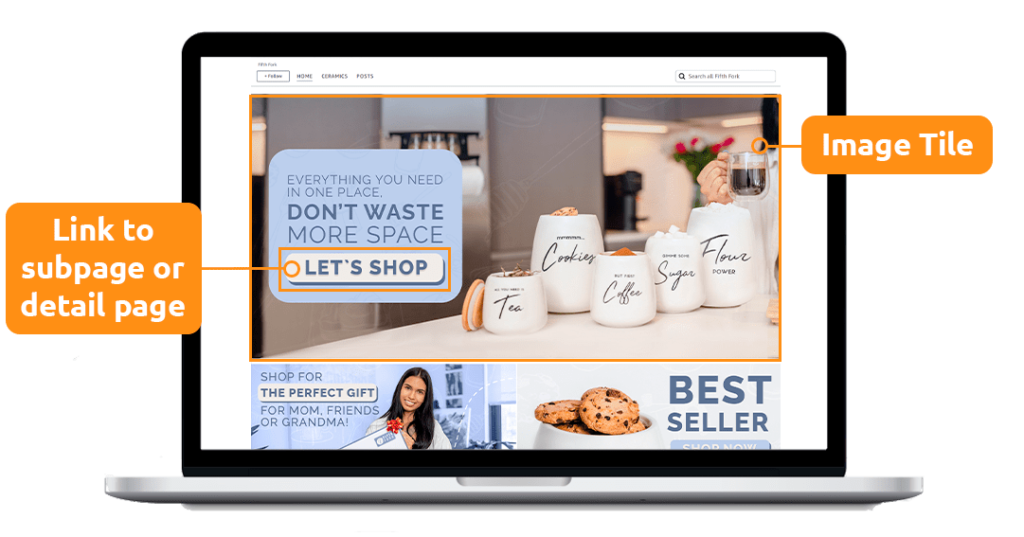 Shoppable image tile

Shoppable images showcase up to 6 products with interactive points. Shoppers can interact with the points to see key information and continue to purchase.
Information such as the product name, image, Prime badge, price, star rating, and shopping actions will show.
Each product links to its product detail page.

Video tile

Video tiles show in a player that shoppers can click to play. The shopper can play and pause the video, control the volume, and view the video full screen.
Both a video file and a cover image are required.
Cover images are used for the video's resting state (before the user presses to play).
Plays full screen on mobile devices.
Plays inline on the desktop, with an option to expand to full screen.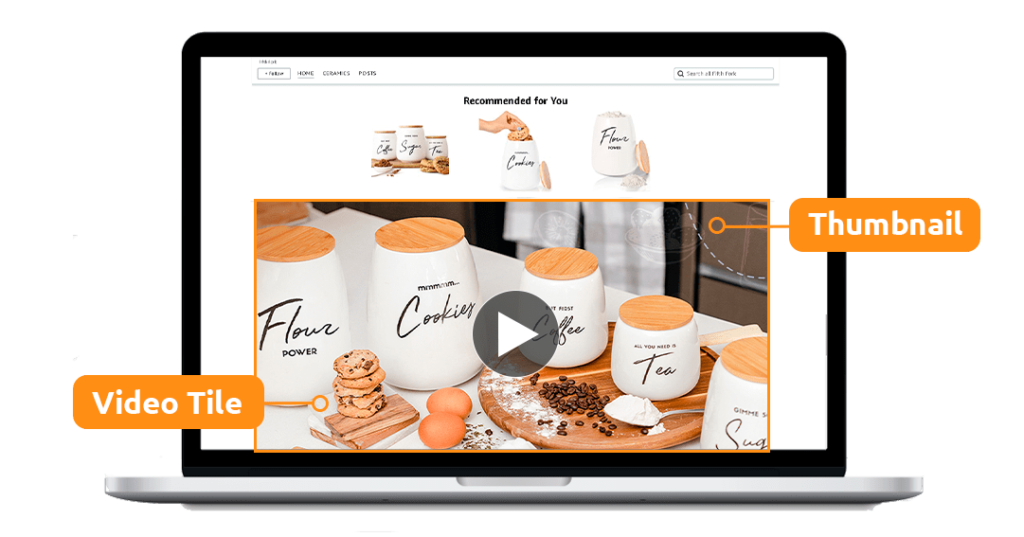 Background video tile

Background videos auto-play and auto-replay on silent while visible on the screen. They play inline on desktop and mobile.
Background videos don't provide video player controls to shoppers; they're meant to set a tone and enrich the visual experience of the page.
Product tile

When used with split sections, product tiles highlight a single product, show price and Prime status, and link to a product detail page.
Medium tiles can include a custom product title and description.
Full-width product tiles have 2 layout options:

Product detail: Automatically shows information from the detail page and a call to action such as "Add to Cart."
Product editorial: Includes a custom title and description, as available on medium tiles.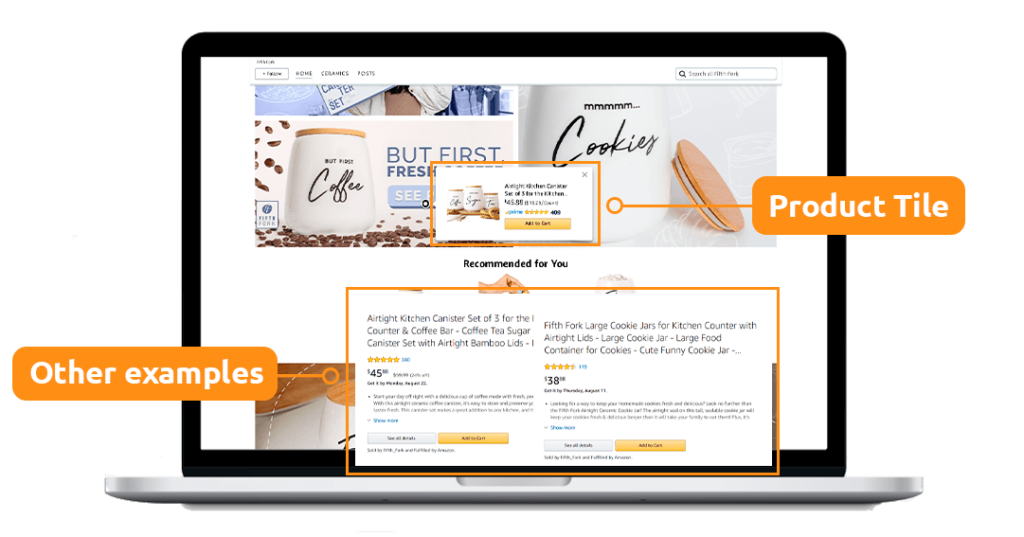 Algorithmic tiles

Bestseller tile: shows the top-selling products associated with your brand. It automatically shows 5 products at a time. The tile won't be shown if there are no best seller products
Recommended products tile: shows products associated with your brand that is recommended to a shopper based on previous shopping history. It automatically shows 5 products at a time.
Featured deals tile: shows products with active promotions. The products will automatically appear in the tile for as long as the promotions last. When a promotion ends, products associated with the promotion will no longer appear on the tile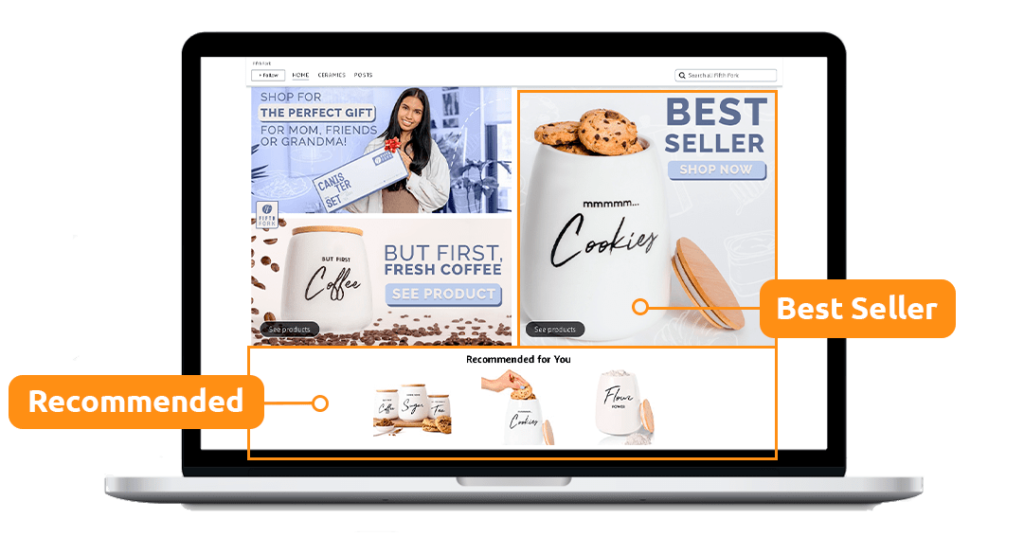 WHY should you use Amazon Stores?
First and foremost, It's free! You don't have to pay anything to have your own Amazon Storefront. Why wouldn't you try this feature?
It's easily customizable and doesn't require HTML knowledge. Simply put, you won't need to code anything, so that's another barrier that's gone with this feature.
Customizable URL. You'd want your page to have a link that is in sync with your brand, wouldn't you? Well, Amazon grants you the opportunity to do so.
Cross-promote your products or lines of products. If you show a "bundle" of products, people will feel more inclined to buy them.
Organize your products by categories. This is useful because it also lets customers know what to expect when entering your Storefront. If you sell various products from the Health & Personal Care department, anyone who enters your Store will be glad to find the various categories and not need to search one by one.
Get new insights into your customers' behavior. You will have built-in powerful tools that give you access to unique store insights that will help you better understand your shopper behavior, and optimize ad campaigns, such as
Amazon Storefront best practices
Use the personalized URL for marketing campaigns inside and outside of Amazon. Use all the available data to personalize the campaigns and get better results and higher views!
Elevate your customer experience with high-quality images, graphics, and videos. Remember, you need to create a connection with the customers so that they not only buy your product but also stay loyal to your brand.
Choose from numerous designs, or personalize it completely. We recommend you personalize it the fullest so that it stands out from the crowd, but we also understand if you'd be willing to use templates. However, if you consider you don't have enough time or skills to do so, book a call with us! We'd be more than happy to help you set up your Storefront.
Make sure to keep lines separated. For example, if you sell sports gear, but also house-cleaning tools, make sure to have 2 separate pages for them. Take advantage of the available categories.
Keep familiar items visible, this will give your shoppers a trustworthy experience. Even though they're "new" to the store, they will see common icons and terms that will let them know this is a more advanced shopping experience on Amazon.
Highlight your unique selling points as well as the best seller's products, to serve viewers with only the best first.
Take advantage of shoppable images, to take potential buyers to the product listing directly.
Make sure the "categories" are easily seen and don't leave them at the end, this way, clients will know that they have options from the get-go.
If you apply all of these tips, you'll be sure to boost your brand awareness, which means more sales in the long term! However, if you're still not convinced, book marketing consultation with us! It's free, and we'll help you skyrocket your sales and give you the best listing for your great product.