The Amazon Brand Story's modules have made it easier for buyers to enjoy a better shopping experience. For example, the scrollable carousel highlighting a significant part of your product catalog makes it easier for prospective buyers to associate with your company's brands and products. In addition, the Amazon Brand Story comes with A+ content manager tools and features, making it easier to showcase your company's products
What is Amazon Brand Story
Amazon Brand Story is a feature that allows you to add images and text to your Amazon detail page to tell your brand's story. It enhances the branding to make customers more likely to purchase your products.
Amazon Brand Story consists of a carousel with a background and interactive brand cards that you can customize to highlight your brand
How to create Brand Story on Amazon
Log in to Amazon Seller Central and go to 'A+ Content manager' on the advertising tab.
Select 'Start creating A+ Content on the right side
If you have the option to create a Brand Story, it will present you with two choices here. First, click 'Create a Brand Story.
When you reach the Amazon Brand Story screen, you will find more customization options. After 2021 Amazon has made it easier for you to make your products unique. Here you can give your product name, create a background carousel, and include a background image.
After creating your brand story content name and brand carousel background, you must 'Add Module .'When you click on 'Add Module,' you will get the following three options:
Brand ASIN & Store Showcase
Brand Focus Image
Brand Logo & Description
You will need to select under which you want to present the Content.
Amazon Brand Story features:
Background image:
Represents the background image of the entire brand story
It has the option to add a headline (max 30 characters) and body text (max 135 characters) to briefly explain your brand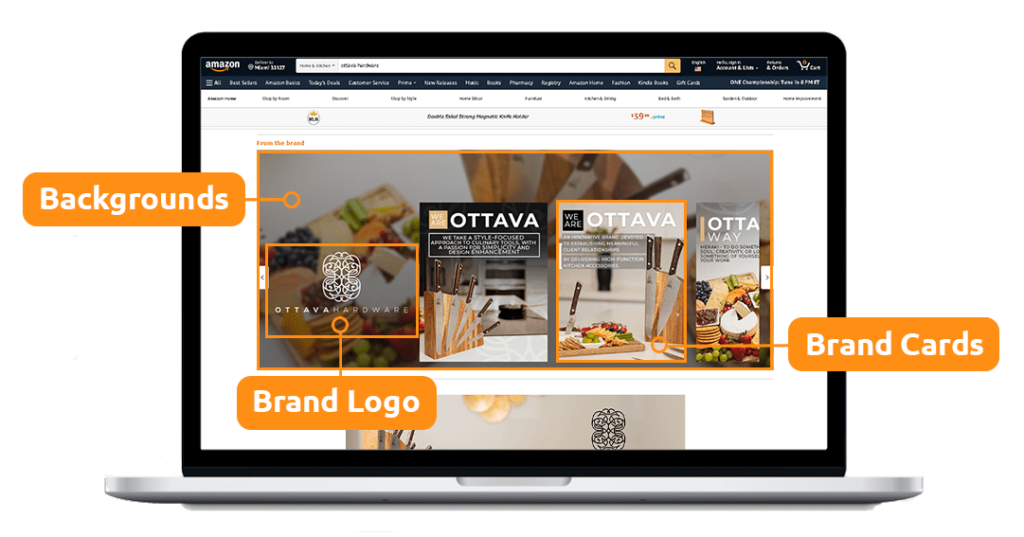 Brand cards
As said before, the brand cards are the modules that you can use to convey your brand values
You don't have to use all types of brand cards, and you are allowed to use them more than once
There are four types of brand cards that you can choose with Amazon Brand Story:
Brand logo & description card
With the Brand logo & description, you can tell the most important information about the company and product range. It has a text block for your brand description and an image block for your logo
Text: up to 450 characters
Image: 315 x 145 pixels
Tips for using this card:
Convey your brand values and ultimate purpose (please, do not say profits. Think further!)
Make your customer the center of your story.
Make it concise and readable for everybody (even for a kid)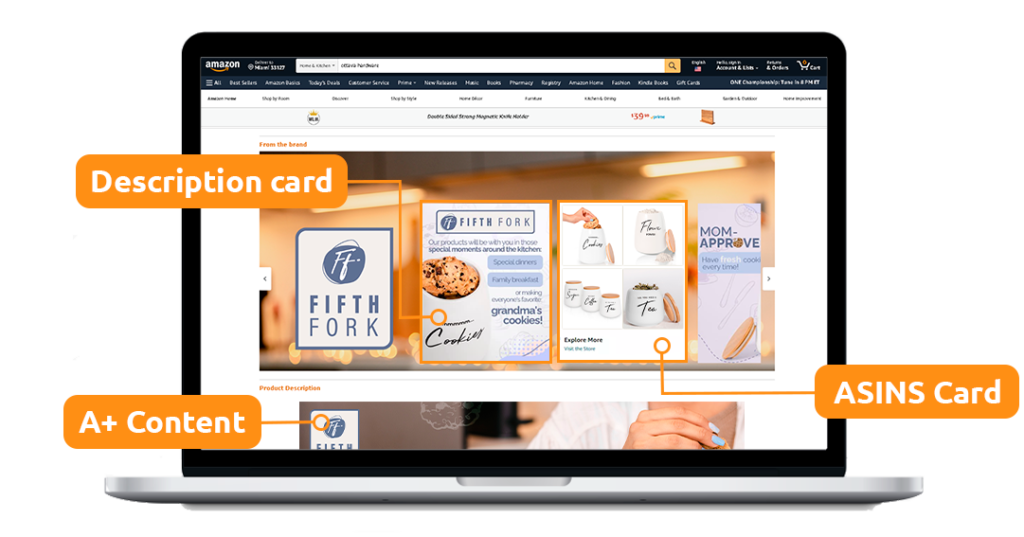 Brand ASIN & Store Showcase card
With the Brand ASIN & Store Showcase card, you can select four highlighted products with their respective associated ASIN linked to the image. When clicked on the product image, it takes your customers to the appropriate listing.
Header: 30 characters max
Text: None
Image(s): 166 x 182 pixels
Tips for using this card:
Choose your best-selling products
Use a colored background (not the typical, plain white).
Employ colors that contrast with your carousel background image
With the Brand Focus Image card, you can show your product line in a captivating way. You can also use it to highlight other important things about your brand.
Header: 30 characters max (optional)
Text: 135 characters max (optional)
Image(s): 362 x 453 pixels
Tips for using this card:
Utilize this card to showcase certifications, awards, and core technologies your customers may look for in your niche
Employ visually appealing images that connect emotionally to your customers
Highlight other important things to take advantage of your competition
With the Brand Q&A, you can put common questions your customers ask, and answer them to provide more structured brand information. It has 3 pre-formulated questions (see samples) in bold with 3 short answers
Header: There isn't a separate section for a header in this module. You can however make one in the body text.
Text: 750 characters max (both questions and answers)
Image(s): None
Tips for using this card:
Use common questions about your brand (don't focus on a specific product)
Answer what differentiates your brand from others
Express your core values if possible
Best practices and tips
Use an indication to swipe left at the left corner of the background image. This way, you will make it more friendly for the mobile experience.
Include just relevant cards. More cards don't mean more sales. Be selective and keep it simple.
Don't repeat your A+ content information. Use these modules to complement your sales pitch, not to compete against it or make it useless by being redundant.
Use high-quality images only. Remember, the content is the listing. If your content is ugly, your customers will think your product will also be
If you want to learn more about how an Amazon brand story can help you increase your sales, book a free marketing consultation with our team of experts! We will be pleased to help you leverage this tool.